Features:
How We Built a Police Reform Tracker on a Platform Made for Rap Lyrics
City Bureau put a landmark 200-page Chicago report on the free platform formerly known as Rap Genius
---
Critics of the Chicago Police Department's misconduct record and accountability mechanisms cheered when it appeared the mayor's handpicked Police Accountability Task Force didn't pull any punches. The Task Force issued a scathing 200-page report that accused the police force of widespread racism and impunity.
There was just one problem—it was the sixth such report submitted upon request to the city's mayor and lawmakers, and few of those prior reforms were ever passed. In fact, many of the measures proposed in this most recent iteration were recommended in each previous report as well (in 1898, 1912, 1963, 1972, 1997, and now, 2016, to be exact).
So…How Are We Changing the Pattern?
This repetition of recommendations raises an obvious question: Why does this keep happening? Why isn't the city acting on informed recommendations that could improve the daily lives of so many residents? And, while Mayor Emanuel has vowed to enact more than two dozen of the most recent reforms (reflected in this update to the Task Force Tracker), what role will residents play in implementation?
These questions are at the core of our Task Force Tracker—or #TaskForceTracker, to the social-media inclined. And they make up the foundation of what we hope to demonstrate: namely, that civic engagement is part transparency, part education, and part action. We wanted to create a tool that could break the dense report into easily searchable and understandable sections, adding information to give everyday citizens context about the issue while tracking any movement to actually implement the change.
With that in mind, City Bureau partnered with the Smart Chicago Collaborative, a civic organization devoted to improving lives in Chicago through technology, and the Invisible Institute, a journalistic production company on the South Side of Chicago, to research and annotate every single recommendation made in the mayoral-backed Task Force report—a total of around 200 individual recommendations on a range of reform topics ranging from Community and Youth Relations to Mental Health Responsiveness to Civilian Police Monitoring, and beyond.
On April 15, 2016, we formed a team of what we call "Community Documenters"—a group of five journalists, lawyers, students and the civically inclined—through funding from Smart Chicago. The deal: we'd pay each of our Documenters to work 25 hours across 5 days. By the end of that five-day period, we'd finish what we had dubbed the Task Force Tracker, "an annotated, updated and crowdsourced analysis of Chicago's 2016 Police Accountability Task Force report."
Who Are We, Again?
Let's back up. We are reporters and educators with City Bureau, a journalism lab based based on the the South and West sides of Chicago. City Bureau aims to support civic media through training, exploration, and the production of top-notch journalism. We achieve our ends through our curriculum, regular town halls that engage marginalized communities and partnerships with a range of community groups, youth media organizations, civic tech foundations, and journalism outlets. In short, we bring reporters and media-makers of diverse backgrounds and skill levels together in a collaborative process of production and mutual education in order to tell stories that wouldn't otherwise be heard. We began our first programs in October of 2015 and have since published over 30 stories in local and national media outlets, including the Chicago Reader, the Chicago Reporter, Chicago Magazine, DNAinfo Chicago, and the Guardian US. (You can read more about our work here, here, and here.)
Our nascent Community Documenters program operates outside of our publication cycle and allows our group to take on projects and partners that respond to current needs and developments in our city. That's the same responsive, flexible ideology that gave rise to the Tracker in the first place. A conversation with Smart Chicago led to funding for hires, and our collaboration with the Invisible Institute led to legal support and insight.
From there, our journalists brought their A-game.
How Does the Task Force Tracker Work?
For five days in April, a half-dozen Documenters combed through research, reports, databases, news sources, city contracts, local/statewide legislation and collective bargaining agreements. They also conducted interviews. Together, they amassed a collection of information that spanned connections between relevant (and often conflicting) groups such as the city's police union, the Chicago Police Department, the Chicago Police Board, the city's Independent Police Review Authority, along with national models that provide context and alternatives to both. To streamline our process, each of our Documenters worked on a single, shared (and publicly available) spreadsheet: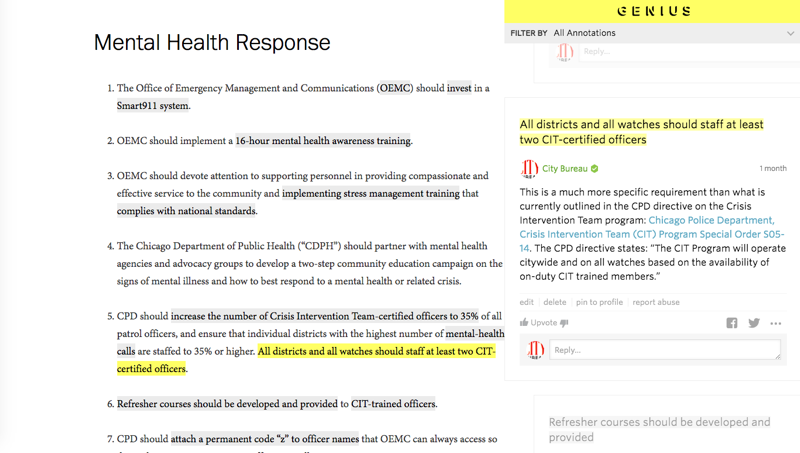 Most importantly, we used Genius (formerly known as Rap Genius) to achieve our desired effect. Our goals were succinct:
collect and organize large amounts of information on a source document,
allow everyday people to collaborate and add their own thoughts, experiences and insight and,
democratize that process while giving it the greatest reach (ex: anyone can open and operate a free Genius account and each individual annotation can be shared via social media).
The folks at Genius were more than willing to help with the effort. They offered tech support via their News Genius team, inside tips on how to best annotate a large document, and helped spread the word (thanks Stephen, Leah, and Nat!)
The Result?
In the first week after the Tracker's launch, the tool saw more than 1000 unique views.
Since then, dozens of annotations and comments have been added.
Thanks to people who saw its potential early on, the Tracker quickly drew the attention of other civic practitioners, foundations, journalists, educators and certain unnamed city officials—some who were involved in the very creation of the Task Force Report and others who sit at the top levels of policymaking in Chicago.
In April, City Bureau Documenter and independent journalist Adeshina Emmanuel published an article with Chicago Magazine that used the Tracker to describe "how state law protects police contract provisions blasted by the Task Force."
Last month, the Tracker got a shout out at the Knight Foundation's #infoneeds conference, which was attended by the country's leading funding organizations (including our primary funder, the McCormick Foundation)
Throughout April and May, the Tracker was noted in a range of media outlets including Fast Company, Chicagoist and Politico.
But our far-and-away favorite use has been during a month of weekly workshops with Chicago's Westside Writing Project where our education director Andrea Hart used the Tracker to explore the police reform recommendations with nearly a dozen 7th and 8th graders from Cather Elementary School. For two Saturdays, the students used the Tracker to choose the most vital police reforms they'd like to see implemented in their communities.
Where Does It Go From Here?
We believe that improving the lives of everyday people and bridging the information gap requires an engaged and informed population across racial, social, class, gender and geographical divides.
It also requires a consistent push. The Tracker was created with the latter goal front-and-center, i.e. even after media attention on police accountability has waned, how do we, as journalists and Chicagoans, preserve acquired knowledge into the future, keep pressure on city officials and make it easy for people to access public tools?
Simply put, we'd like to see folks continue to add annotations, and comment on annotations that have already been added. We'd like to see educators use the Tracker in schools. We'd like to see more elementary and high school students engage with the information on a personal level. We'd like to see journalists continue to cite the details we've gathered. And we'd like to see lawyers use that same information to inform their cases.
These aren't easy asks, surely, but we've already seen the process begun—there's no reason the effort can't be tracked and sustained.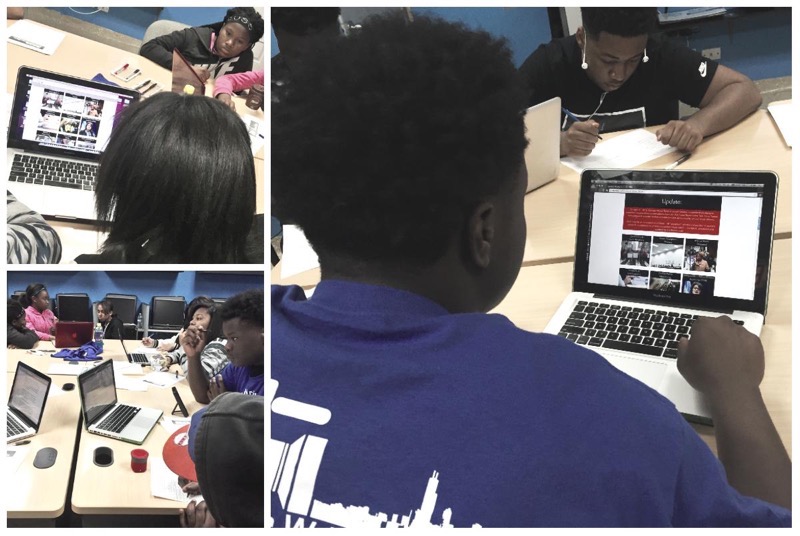 Any organization can apply the same tactic to public tools of their own design—no tech smarts required. What would it look like for a news outlet to file FOIA requests for emails from city officials related to a city's most pressing issues—then use Genius to annotate those materials, drawing connections between actions and words where, seemingly, none existed? Or, at a basic level: can a class of 9th grade digital natives better understand the inner workings of their school by annotating governing documents—turning a set of obscure words and phrases into meaningful applications to their daily lives using a platform as simple and familiar as a re-purposed app like Rap Genius?
The answer to these questions is a resounding yes. So, consider the Tracker a demonstration—of the many ways that journalism, civics and tech can intersect and innovate to support shifting power dynamics. By producing on-the-ground reporting, investigative journalism and public tools, like the Task Force Tracker, we believe we can keep context alive.
We intend to take this tool and use it in our own public workshops and town halls—like a four-week series we recently hosted on Chicago's West Side. But we hope that others will create their own Genius accounts to continue to annotate, inform our process and share feedback.